Sign up for our email newsletter for details of special offers, product updates, teachers' tips and our latest news.
Register here - we won't pass your details on...

Making models of PVC in Uganda
Orbit models being used in Uganda during courses for African chemistry teachers and students, funded by RSC. These teachers usually teach by dictation and have rarely done practical and never handled models. We instruct them to make models of ethene which they then squash so the bonds break and the students rejoin them to make polythene. .
Submitted by: Jean Johnson - Analytical Chemistry Trust Fund (ACTF) (UK)
---
To submit your own images go to our upload page.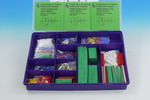 New storage boxes for group sets
Sturdy plastic storage solutions to last as long as our sets
More info...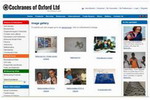 Share your product images
Upload your photos of our products in action to our new gallery page
More info...