Sign up for our email newsletter for details of special offers, product updates, teachers' tips and our latest news.
Register here - we won't pass your details on...

G-Quadruplex DNA
Models of a DNA quadruplex model constructed by the Balasubramanian Group at the University of Cambridge for display at an open day. Our work in the quadruplex field is led by Prof Shankar Balasubramanian; Dr Pierre Murat and Dr Marco Di Antonio constructed the model using the Orbit molecular modelling system. Nathan Pitt is the department's photographer.
Submitted by: Chris Lowe - University of Cambridge (UK)
---
To submit your own images go to our upload page.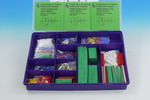 New storage boxes for group sets
Sturdy plastic storage solutions to last as long as our sets
More info...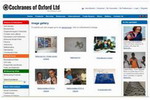 Share your product images
Upload your photos of our products in action to our new gallery page
More info...