Sign up for our email newsletter for details of special offers, product updates, teachers' tips and our latest news.
Register here - we won't pass your details on...

Soap bubble foam
A simple model of foam showing how bubbles join together. The understanding of foam structure was advanced by Denis Weaire and Robert Phelan of Trinity College Dublinís School of Physics in 1994 when they improved on a previous model that was a century old. Parts used for this model: *Orbit tetrahedral 'k' atoms as the nodes *Construct-o-straws as the edges
Submitted by: Tom Cochrane - Cochranes of Oxford (UK)
---
To submit your own images go to our upload page.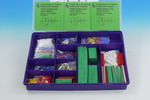 New storage boxes for group sets
Sturdy plastic storage solutions to last as long as our sets
More info...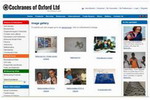 Share your product images
Upload your photos of our products in action to our new gallery page
More info...