Sign up for our email newsletter for details of special offers, product updates, teachers' tips and our latest news.
Register here - we won't pass your details on...

Prize tellurium in action
The prize Telluriium won in the Cochranes of Oxford 50th anniversary competition in action at Redhill School. It has already been used by students at the schoolís Space Club to learn about seasons and will be used in lessons about the solar system (year 7), how the Earth works (year 8) and satellites and space (year 9) as well as in KS4. It will also form part of their interactive displays at Open Evenings and other events such as the science circus the school puts on for local primary schools. Itís great to have such a robust and good-looking piece of equipment that students can use to explore various topics such as night and day and phases of the moon. It should help them to grasp such concepts quickly and inspire them to want to learn more
Submitted by: Dr Liz Carter - Redhill School, Warwick (UK)
---
To submit your own images go to our upload page.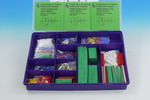 New storage boxes for group sets
Sturdy plastic storage solutions to last as long as our sets
More info...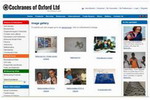 Share your product images
Upload your photos of our products in action to our new gallery page
More info...