Sign up for our email newsletter for details of special offers, product updates, teachers' tips and our latest news.
Register here - we won't pass your details on...


Minit ProView Model Fullerene - C60 & C70 Assembled
Product Code: 0085A
0 Reviews | Submit a review | Add to favourites | Tell a friend
Pre-assembled models of C60 and C70 fullerenes.

Carbon 60 is the nearly spherical football-shaped molecule consisting of 60 carbon atoms. It is also known as the Buckyball and is the most stable example of the fullerenes. The C60 model is composed of 12 pentagons and 20 hexagons with alternating double and single bonds illustrated by different colour tubes.

The C70 fullerene model consists of 70 carbon atoms. It resembles a rugby ball in shape and is composed of 25 hexagons and 12 pentagons with single and double bonds illustrated using different colour tubes.

With these models you can study and compare the structure of these common fullerenes.

The set contains 130 carbon atoms from the Minit molecular building system.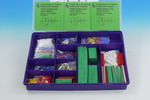 New storage boxes for group sets
Sturdy plastic storage solutions to last as long as our sets
More info...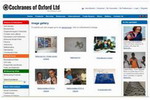 Share your product images
Upload your photos of our products in action to our new gallery page
More info...