Sign up for our email newsletter for details of special offers, product updates, teachers' tips and our latest news.
Register here - we won't pass your details on...


Orbit Material for Mathematics
Class Set
Product Code: 0114
1 Review | Submit a review | Add to favourites | Tell a friend
"No matter what geometry topic your students are learning, there is a place for a set of Orbit Material for Mathematics."
ATM Equipment Review.


Completely revised and updated in 2012, the Orbit Material for Mathematics provides a flexible and fun hands-on construction resource with which to teach a wide range of curriculum topics from lower primary to secondary school.

Using this material, pupils will be able to explore the features and properties of a wide range of 2D and 3D geometric shapes and patterns, following the simple instructions and visual guides on the work cards. Topics for study include simple polygons and polyhedra, complex polyheda and duals, angles, tessellations, number patterns, symmetry and perimeter.

Class set includes: 406 moulded joiners, 680 straws, 74 work cards and teachers notes. Please note colours of joiners may vary from those pictured.

The material is compatible with the Construct-o-straws™ construction sets, kubic bubbles and Orbit molecular modelling sets.

The set is particularly suitable for extension work, gifted and talented students and can be used for extra curricular activities such as engineering clubs.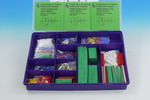 New storage boxes for group sets
Sturdy plastic storage solutions to last as long as our sets
More info...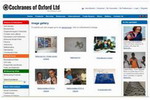 Share your product images
Upload your photos of our products in action to our new gallery page
More info...