Sign up for our email newsletter for details of special offers, product updates, teachers' tips and our latest news.
Register here - we won't pass your details on...


Kubic Bubble Set
Product Code: 0025
0 Reviews | Submit a review | Add to favourites | Tell a friend
Soap film always makes the shape with least surface area. With this Kubic Bubble set you can make unusual and complex three dimensional film shapes supported by cubes, tetrahedrons, octahedrons, and triangular prisms.

Pupils will love constructing the sets and making film shapes. Use the sets to discuss a variety of scientific and mathematical principles, from basic geometry to surface tension, light refraction and minimum energy surfaces.

This set includes the pieces to make 1 set of 4 frameworks - tetrahedron, cube, prism & octahedron. Supplied with teachers notes and suitable from primary to higher level education depending on the topics studied.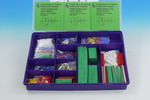 New storage boxes for group sets
Sturdy plastic storage solutions to last as long as our sets
More info...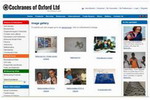 Share your product images
Upload your photos of our products in action to our new gallery page
More info...