Sign up for our email newsletter for details of special offers, product updates, teachers' tips and our latest news.
Register here - we won't pass your details on...


Construct-o-straws Class Pack
Product Code: 0003
0 Reviews | Submit a review | Add to favourites | Tell a friend
The very young are attracted by the bright colours and easy method of joining pieces together. Older children are intrigued by making more complex models. The system imposes very few restrictions on a child's imagination, which allows them freedom of expression in a three dimensional medium.

Contents packed in a plastic bag
180 coloured straws
108 joiners
4 wheels
8 bases / large wheels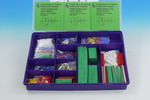 New storage boxes for group sets
Sturdy plastic storage solutions to last as long as our sets
More info...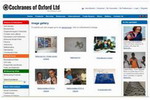 Share your product images
Upload your photos of our products in action to our new gallery page
More info...