Sign up for our email newsletter for details of special offers, product updates, teachers' tips and our latest news.
Register here - we won't pass your details on...


Minit Carbon Nanotube Model Kit
Product Code: 1401
0 Reviews | Submit a review | Add to favourites | Tell a friend
Carbon nanotubes are currently one of the most intensively studied nanomaterials with their unique molecular structure resulting in several potential exciting applications in current day nanoscience.

Using this kit you can make a graphene sheet, carbon nanotube, carbon 60 (buckyball) and related structures with up to 260 carbon atoms.

Instructions show how the carbon atoms can be arranged to illustrate the different symmetries of carbon rings in the nanotube to create the chair, zigzag and chiral structures.

The kit uses the Minit molecular building system and contains 260 atoms to make a nanotube model 50cm long.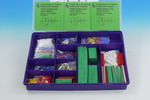 New storage boxes for group sets
Sturdy plastic storage solutions to last as long as our sets
More info...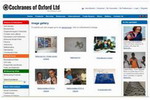 Share your product images
Upload your photos of our products in action to our new gallery page
More info...