Sign up for our email newsletter for details of special offers, product updates, teachers' tips and our latest news.
Register here - we won't pass your details on...


Holographic UFO-SAM Kite
Product Code: 4205
3 Reviews | Submit a review | Add to favourites | Tell a friend
Listed by The Daily Telegraph as one of the best recreational kites for sale. (August 2014)

Watch with amazement as the UFO-SAM kite spins and flashes through the air. Holographic foil reflects the sunlight in a kaleidoscope of colour. The kite spins as it flies and is an aerial sensation wherever it is flown.

UFO sightings have been generated by these kites! Flyers are able to accelerate them into fantastic climbs that appear to distant onlookers as being only possible by visitors from outer space!

For 8 years old and over.
Wingspan 48cm. Supplied with 60m of line and handle.

Also suitable for use as a birdscaring kite.
| | | |
| --- | --- | --- |
| Related items: | | |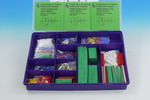 New storage boxes for group sets
Sturdy plastic storage solutions to last as long as our sets
More info...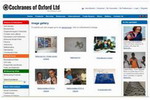 Share your product images
Upload your photos of our products in action to our new gallery page
More info...